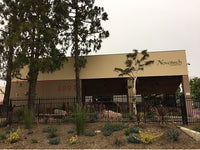 Novotech Nutrition
Novotech Nutrition is a US supplier ("Made in California" member) for a number of innovative products including over 50 types of amino acid and organic acid NovoMin® chelated minerals (Boron, Calcium, Chromium, Cobalt, Copper, Iron, Magnesium, Manganese, Molybdenum, Potassium, Selenium, Vanadium, and Zinc), multiple forms of patented NovoOmega® Omega-3 powder (fish, algae, plant-based), and superbly effective non-acidic Nutra C® Vitamin-C . With a focus on research and customer satisfaction, Novotech is your source for high quality functional ingredients.
Contact Us
Telephone: 805-676-1138
Email: sales@novotechnutrition.com
Address: 3112 Seaborg Ave, Suite D, Ventura, CA 93003 U.S.A.
Hours: 8am - 5pm PST